Soccer Goals & Nets
Soccer is one of the fastest growing sports in Australia. PM Sports has setup playing fields around the country to accommodate this exciting sport.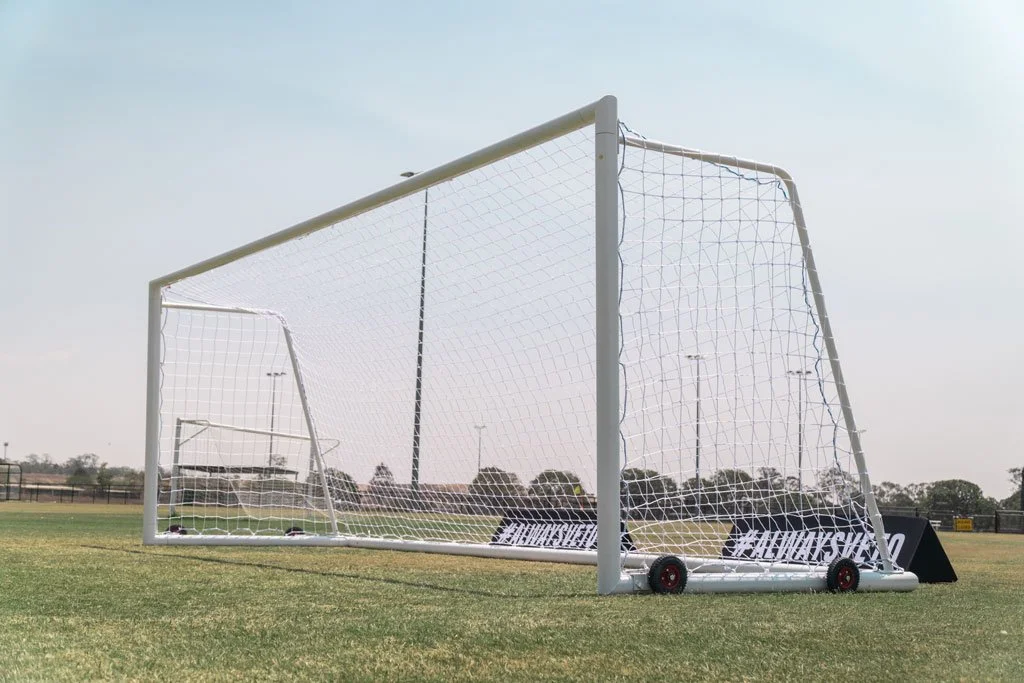 Indeed, many community clubs and local leagues have sprouted in tandem with the popularity of the professional A-League to whet the appetite of people to want to get in on the action and hone their soccer skills.
In order to set up a proper soccer training ground or playing field, there are certain things you need and one of them are soccer goal posts.
At PM Sports, we are one of the leading companies in Adelaide that has provided sporting equipment like soccer goals to professional soccer clubs as well community centres for many years.
We manufacture our own soccer goal posts (also known as football goals) according to strict ACCC safety standards so you can rest well in the knowledge that you will be getting a top quality product that is tough and durable.
Our soccer goal posts are manufactured with high grade aluminium that guarantees they will be able to stand up to the toughest treatments during a game.
For a complete solution, our soccer goals come with nets, ground sleeves, steel reinforced spigots as well as dust caps for the ground sleeves and uprights when they are not in use.
This attention to detail means that our soccer goal posts will give you an optimum return on investment as they will provide you years of enjoyment without any problems.
We have range of professional permanent, semi-permanent as well as portable soccer goal posts to suit your specific requirements and budget.
Get in touch with us today and one of our friendly and knowledgeable representatives will gladly assist you in answering any soccer goal post queries you might have.
Portable Soccer goals closeup
Looking for quality soccer goals?
Then here's a few pointers to help you select the right product for you:
Are the soccer goals for Junior or Senior players?
Do you need in-ground goals or removable goals supplied with sleeves?
We also have portable goals with wheels (pictured left) which are very popular too
Our soccer goals are made to Australian standards in Adelaide and can be white powder coated as well
We also freight soccer goals all around Australia – We'll make sure they get to you safely!
Do you need also need soccer nets because we have those too.